Your Hosts,
Ryan and Jasmine
Ryan Cherny
Jasmine and I officially took ownership of Three Lakes Camp in the spring of 2009. However those familiar with the camp will remember me hanging around long before that, while working for George and Donna Hawes. How ironic, after offering George so much unsolicited advice that I would now be on the receiving end.
I was introduced to Jan Lake at a very young age. Summers spent with my family at our cabin on Jan were a vacation staple for many years. During those early years I was no stranger to Three Lakes Camp. I was witness to Three Lakes under both eras of management, first with founders George and Sadie Horne and later with George and Donna. While attending university I was able to continue spending my summers at Jan, working on the docks. Those years influenced me greatly as I learned the lake, the business, and of course met Jasmine.
I am a cross-fitter and an MMA enthusiast though I can find little time for either during our operating season. I enjoy problem solving and fixing things; luckily remote northern fishing camps provide plenty of opportunity for both. I have always been very proud to be involved with Three Lakes and take the role of caretaker very seriously especially when considering the history of the camp and of its clientele.
On any given day you will most likely find me on the dock. Stop by for a beer as I am always up for the latest fish tale.
Jasmine Hughes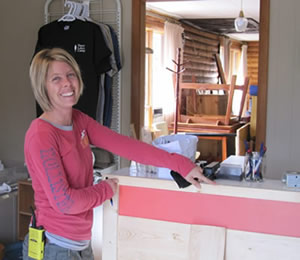 Originally from Central Alberta, and after my fair share of roaming the globe, my heart has settled in Saskatchewan. After being hired for a seasonal house-keeping position at Three Lakes Camp over the phone in 2001, I packed up my car and headed North. I had no idea what to expect, not having been to Northern Saskatchewan before. On May 1st, I rounded the last curve in the road and set my eyes on the the sparkling waters of Jan Lake beneath a cloudless blue sky.
A dear friend of mine says she starts dreaming about the lake every year in February. I would have to agree with the many others who believe there is something about Jan Lake that draws a person back time and again. The four seasons I spent working for George and Donna Hawes at the camp were full of new experiences. As staff, we were given every opportunity to explore and get to know Jan Lake. From cliff-jumping to berry-picking, Yamaha 101 to night crawler care! Little did I know I would be taking over operations of Three Lakes with Ryan in the future. I met Ryan in 2001, it was his first season working at Three Lakes as well.
I am an avid scrapbooker and love photography. Jan Lake, the artists' paradise that it is, has fed my creative side for years. Besides the arts and crafts, I enjoy throwing myself into the workings of the camp. I'm usually the one answering the phone and emails, and can either be found behind the desk in the store or down on the big deck enjoying the sunshine.