News
June 9, 2022
The good news is the fish are biting… the bad news is we've had to raise our boat rental rates due to rising gas prices. In 2018 we started including fuel with boat rental and until now have found the pricing to be very fair. Unfortunately what has become apparent this month is that the rate we set in January is no longer sustainable. We realize that the costs involved in coming North for your fishing trip have risen across the board. We can't express how much we appreciate your continued support and understanding.
Our 2022 brochure does not reflect these changes, but current rates can be found on our website.
May 18, 2022
It's a beautiful sunny day at Jan Lake. We might be getting impatient as evidenced by the docks being put out yesterday afternoon despite the ice still floating around in the bay. The first boat ride of the season is always a thrill. Last night we couldn't get through the ice at Lou's Point, but we were able to take a jaunt up the north east shoreline. The lake level has come up a foot already since we arrived beginning of May which is a good thing as levels were super low when the lake froze last fall. Water temperature is hovering around 40 degrees, so the remaining ice won't be with us for much longer. We are noticing the lake is very tea-colored right now. Minnow schools along the shoreline are plentiful. We've seen Eagles, Loons, and Mallards in the bay. There are so many invisible songbirds in the forest that we can hear but never see.
There are currently no Covid-related public health orders in effect in Saskatchewan, however we are still asking for the names and either a phone number or email address for each person in your party. We also ask that you bring your own pillows and sleeping bags. We are providing fitted bed sheets, bath and kitchen towels. If you or anyone in your group is feeling unwell please stay home.
The store and office is open for check-in and all your basic tackle needs. Ice and bait is available in our store as well as on the docks. Filleting service is available until 8pm. Check-in is 3PM as far as cabin access goes. If you wish to arrive early for boats, you are welcome to park in the yard. Check-out is 10AM.
Please let us know if you have any questions, we wish you safe travels to camp!
May 8, 2022
If you don't like to weather in Saskatchewan… wait 5 minutes…
In the last week we've had it all! 3 inches of wet, heavy snow in one night. An inch of rain that produced the most eerie fog when it hit the ice on the bay. Blustery gusty south winds. And the most beautiful blue sky and bright spring sunshine.
As you can see from the photos on our Facebook and Instagram updates, there is still a rather large hunk of ice on the bay. Today we are seeing several feet of open water along the edges, as well as off the island points. We've been above zero for several nights now.
We are working away at spring cleaning the cabins and several building and maintenance projects while we wait for our earliest opportunity to put the docks out and launch the fleet. We can't wait to see you all in camp for another season of great fishing and fantastic company!
January 25, 2022
Today I had a great conversation about Walleye fishing on Jan with a guest who had called to discuss cabin rental dates, and I thought I would share a few of our talking points. We agreed on how much time of day, depth, and presentation matter when it comes to finding and catching this species. Walleye are sensitive to sunlight and temperature so a depth finder can be a great tool. Jan Lake can be quite murky so the brighter the tackle the better. David said the highlight of his family trip was shore lunch on an island cooking up a meal of freshly caught fish, and exploring the landscape. He asked how we like going North year after year, and I couldn't help replying with a smile that we love it! Thanks David for sharing your enthusiasm and fishing tips!
July 16, 2021
As forest fires are plaguing the north, we are not immune. Just heard the 106 has been closed at Smeaton, as SK Wildfire works on the White Swan and Harding fires. Meanwhile just this morning a rather large fire has developed just south of the bay, threatening the Hwy. Guests scheduled to travel to us should call and advise of their plans. Check the Highway Hotline prior to departure.
https://hotline.gov.sk.ca/mobile/
http://environment.gov.sk.ca/firefiles/firestodate.pdf
https://weather.gc.ca/city/pages/sk-55_metric_e.html
July 11, 2021
Summer is in full swing at Jan Lake. Due to the heat dome we've all been experiencing, water temperature is reading above 70 degrees. Many are choosing to fish the early mornings and late afternoons, coming in for lunch in the shade or cooling off with water sports. Nightcrawlers are working well in the heat and we have lots of minnows in stock.
Today provincial Covid restrictions have been lifted and we will no longer require masks in our store. If you feel more comfortable wearing one, please do so. Please be advised there will be people in the store without them on. We are also lifting the group limit in the fish plant. Filleting service is still available for $2.50/fish until 8pm.
We are continuing to ask everyone to bring their own pillows and blankets at this time. We are providing fitted bed sheets, bath and kitchen towels. We will continue with all other cleaning and sanitizing procedures, and ask that our 10AM check-out and 3PM check-in times for cabins are respected.
Black bear population in the area is healthy and we've had several encounters in camp already. We are asking everyone to put garbage outside for collection in the mornings and avoid leaving anything out overnight in the cans or otherwise. We are also taking measures to maintain BBQ's as clean as possible.
It's hot, it's smoky, and there are bears on the doorstep.. but we're not complaining!
May 19, 2021
The ice went off the bay on May 15 th and the big lake surprised us as it's already clear. Our dockhands, David and Linden have already been enjoying some epic Walleye fishing! Most of May has been beautifully calm and sunny. We are looking at a bit of a cool spell over the next few days, but a decent forecast for the long weekend.
https://weather.gc.ca/city/pages/sk-55_metric_e.html
There are currently wildfires near the city of Prince Albert. Depending on which route you are planning to take to Jan, you may want to keep an eye on highway conditions as heavy smoke as caused some road closures in the area.
https://hotline.gov.sk.ca/mobile/
COVID-19 HEALTH AND SAFETY PROTOCOLS AT THREE LAKES CAMP
Contact-less check-in means that your cabin will be ready and left unlocked for you upon your arrival. No need to visit the office/store, although it will be open. We've had to get sticky with our 10am check-out and 3pm check-in as far as cabin access goes, as we need the time to complete deep cleans. Folks are still welcome to show up early for boats and park in the yard.
Cabins are thoroughly cleaned and sanitized and linens are laundered as per Saskatchewan Health guidelines. We are asking guests to bring their own pillows and either sleeping bag or blankets. We are still providing fitted bed sheets, kitchen and bath towels.
Please give staff and fellow guests space on the docks. If you are renting a boat, you will be assigned the same boat for the duration of your stay. Your rental boat will be cleaned and sanitized every night.
One group allowed in the fish plant at a time. Last season there were a few busy evenings where people had to wait to do their fish, but it seemed to work out alright. We set up a table on the docks for our staff to do filleting so they weren't taking up a spot in the plant. Filleting service is available for $2.50/fish.
Masks weren't a thing yet in SK last season, but we expect everyone will have them this year and use them when required. Our office/store is open to one person at a time. Currently we are not offering bill-splitting; we ask that one person take care of the bill at the end of your stay. Please wear a mask in our office/store.
We ask that anyone with Covid related symptoms notify management immediately. Management will assist in contacting Healthline, and with transport to a medical facility if required.
Thank you and we look forward to hosting your Jan Lake stay!
May 7, 2021
Hello Jan Lake! We are having some beautiful sunny days and freezing nights. There are still snow banks in the shade and the lake ice is quite solid from shore to shore in the bay. The ice was 2 ½ feet thick on May 1 st when we drilled a hole for a submersible pump. Now an otter is using that same hole to pop up on top of the ice for a quick breath while he munches a freshly caught fish.
The ice froze quite low. All the dock ramps are currently positioned at downward angles, whereas last season it was all we could do to stay above the high water! We are posting regular photos of the ice on our camp facebook page.
The following is a link to the Gov't of SK outfitter specific guidelines regarding Covid 19 protocol:
https://www.saskatchewan.ca/government/health-care-administration-and-provider-resources/treatment-procedures-and-guidelines/emerging-public-health-issues/2019-novel-coronavirus/re-open-saskatchewan-plan/guidelines/outfitting-guidelines
These are the same guidelines we followed last season and will be following again this year. We will be contacting every group just prior to arrival to do Covid 19 screening and gather contact tracing information. We are asking all guests to please bring their own bedding again this year. Please wear a mask if entering our store/office.
Once this ice is off, we are looking at another awesome fishing season on Jan Lake! We are all pretty excited as we do the spring cleaning and chores around camp getting everything ready for opening.
December 31, 2020
As 2020 comes to a close, we'd like to express our gratitude for the support we received through this past year. Thanks to those of you who were able to stay with us at Three Lakes Camp, and also thanks to those of you who couldn't, but who communicated encouragement and well wishes for a safe and successful season.
We would like our staff and "volunteers" to know just how much they are appreciated. Every year involves huge effort and heart to maintain Three Lakes Camp as the special gathering place that it is. This past year extra efforts were made by all so that traditions continued and new memories were made.
Wishing you safety and good health in the New Year. We hope to see you at Jan Lake in 2021.
July 19, 2020
Greetings from Jan Lake! Here are a few updates on conditions…
We are experiencing high water levels again which makes some areas of the lake more easily accessible, but at the same time creates other hazards such as an increase in logs and debris from submerged shorelines floating in the water. Please take care navigating the lake as many landmarks are under water! It also makes life interesting around the marina as we have to make a few adjustments to keep everyones feet dry!
The Mayfly hatch happened over this past week. Water temperature is sitting around 70 Degrees F which is on the cool side for this time of year. Walleye are being found in all corners of the lake around the 12 to 18 foot mark and there is no shortage of Pike. So far this has been a very cool and rainy summer season making for higher and cooler water conditions.
Chartreuse and pink are colors that have been working well lately. We have a good selection of frozen minnows in camp and also nightcrawlers for sale.
June 25, 2020
A late, rainy, cool start to the fishing season this year as the lake levels are on a steady rise. Lately the water has been coming up an inch a day! It's a great time to drive up, settle into a cabin, and get out on the lake!
Walleye have dispersed and can be found around the 20 foot mark. Water temperature has warmed to 65 degrees. Lots of beautiful eater size Walleye hitting the fry pan around here. Some great stories of landing big Pike who put up a fight, and always that one that got away!
May 23, 2020
Covid 19
To keep our guests and staff safe and healthy, we are making a lot of changes and adjustments in order to meet the health authority guidelines set out for us to be able to operate. It's going to be different season and you may need to prepare for some of these changes.
General rules
First and foremost we ask that anyone exhibiting symptoms stay home. If you or anyone in your group is unwell, please do not come to camp. Anyone showing symptoms of Covid 19 will have to be isolated and sent home.
Social distancing is the new normal and we must try to abide by that at all times. Simply stand back about six feet from anyone you may encounter while you are here and give people space where you can. We cannot have any large gatherings. Limit the people on the decks and try to spread out. Wash hands often and cough/sneeze into elbow.
Please respect our 3:00pm check in time and 10:00am check out.
Angling licenses
Purchase your angling license online and print before leaving home. We will be unable to provide you a computer to do so here.
Travel
Everyone should strive to make as few stops as possible on their journey to and from camp. We do have premium fuel for sale on sight. Be aware that not all businesses along the Hansen Lake Hwy are open at this time and plan your fuel stops accordingly.
Bedding
We WILL NOT be providing the usual bedding. PLEASE BRING YOUR OWN BLANKETS/SLEEPING BAGS, AS WELL AS PILLOWS. This is strictly due to Covid and at this time we do not feel we can safely keep up with the laundry required in the guidelines. We will be providing limited linen service including bed sheets, bath and kitchen towels.
Contactless Check – in
There is no need to come to the office; your cabin will be ready for you.
Limited Store and office access
The store will remain closed at this time. Ice and minnows will be available on the docks and charged to your cabin. No cash sales at this time.
Fish plant
Our fishplant will be open for use by one group at a time with cleaning between groups. This will mean queuing up and being notified when it is your turn to use the filleting stations. Filleting service will still be available at $2.50/fish.
Public Washrooms/Shower house
Public bathroom and shower house access is unavailable at this time.
Shore Lunch
Shore lunch kits are unavailable at this time; however we will still lend large shore lunch pans and camp stoves at no charge.
Payment/ Check-out
We can accept one member of the group into the office to pay the bill at the end of your stay. We will be unable to do multi way splitting of the bill and guests should plan ahead/transfer funds before departing. E-transfers are also an option and can be accepted in realtime.
May 19, 2020
Many of you heard the good news today; the travel restrictions on Hwy 106 have been lifted. All travel is now permitted in North East Saskatchewan. We are permitted to resume operations by the provincial government provided we can meet their guidelines. As such, we will be striving to open June 1 st. (The ice should be off the big lake by then!)
Some changes are going to be necessary and we are still waiting to get clarifications on details of the outfitter guidelines. All guests with reservations in the first week of June can expect to hear from us in the next few days.
It's going to be a different kind of year, and we're going to ask you to work with us as we navigate this new normal so we can still go fishing and all be safe. We are excited to see you all!
May 15, 2020
The fishing season is open but the Northern Saskatchewan travel ban remains in effect. This prevents us from taking guests. There have been several developments in the last few days and the situation is very fluid.
In a world where the rules are changing by the hour procrastination can be your friend.
We have heard a rumour that the changes may be coming on Tuesday after the long weekend so we are going to postpone any decisions until then.
We continue to develop our Covid plan so, should we be allowed to take guests, we can comply with the guidelines.
Lastly, you are not missing much. The ice is still on the bay and we can't even swing the docks out so we probably wouldn't be open anyways.
That's all we know for now.
May 1 , 2020
Well we have put this off as long as we could. We have been monitoring the Covid 19 situation one day at a time. It's now May 1st and our season would normally be kicking off in two weeks.
In the last few weeks, there have been several developments. Many are aware of the Saskatchewan re-open plan. This had some good news as it told us the fishing season dates would be unaffected and, though unclear it held the possibility of us being able to open camp to recreational travel as early as June 1st with phase2.
https://www.saskatchewan.ca/government/health-care-administration-and-provider-resources/treatment-procedures-and-guidelines/emerging-public-health-issues/2019-novel-coronavirus/re-open-saskatchewan-plan/guidelines/parks-and-campground-guidelines
However the news quickly turned as a Northern Saskatchewan Travel ban was announced effectively cutting off any travel to camp. This move was reinforced with yesterday's announcement that the ban would be even more complete.
https://www.saskatchewan.ca/-/media/files/coronavirus/public-health-measures/public-health-orders/order-april-30-2020.pdf
Given the unfolding situation in Northern Saskatchewan we have been forced to make the following changes for the upcoming 2020 season:
All May fishing or recreational bookings are cancelled. Any deposits for this time will be refunded or carried forward. Jasmine and I will be reaching out to everyone personally regarding deposits and just to chat.
We will try to make accommodation available to essential workers who may be servicing Northern communities.
We do not know what the future holds and are reluctant to cancel anything further. With the rules changing almost everyday and a constantly moving goal post, it is impossible to know what the situation will be in two weeks or even one month's time.
We plan on a rolling two week assessment where we determine if it is likely we will be able to open or partially open and make a decision at that time. May 15th we will know if we can accommodate fishermen June 1st. We wish we could be more concrete on this but we just don't have any answers.
Ok. Now for the positive spin. Jasmine and I are well and where we want to be. We may not get to see some of you this year but we are not going anywhere. This camp has survived fire, flood and now as we cope with a pestilence of sorts we are reminded of its enduring nature. We will hopefully see you soon but if not soon we will see you again.
June 7, 2019
All kinds of good times and fishing going on at Jan Lake! Water level is on the low side right now. It is several inches lower than it was at this same time last year. The Walleye and Northerns are really biting; have been since opening. Take a look at the awesome photos on our facebook page that our guests have been sharing with us! 4lb Walleye are no longer uncommon. There have been several catch and release Northern Pike over 15lbs. After a day out on the lake, why not trying a few casts off the docks… careful, you may limit out!
It's been a cold spring in our area in contrast to the heat experienced in the Southern part of the province. Now we are getting a good dose of much needed moisture and the vegetation is really greening up.
Just an FYI that there is gravel road construction happening along the #135 just as you turn off the #106 and to expect delays. We wish you safe travels this summer and look forward to seeing you in camp!
May 11, 2019
Hi everyone, we've been back up at the lake since May 1 st working on cabin renos. We have been posting a few ice photos on our facebook page:
https://www.facebook.com/ThreeLakesCamp/
There is still ice on the bay, albeit rotten-looking with a fair amount of open water around the edges. The weather forecast finally looks to be turning in our favour:
https://www.theweathernetwork.com/ca/weather/saskatchewan/pelican-narrows
Tons of wildlife making appearances around here. So many birds, so many squirrels… there is currently a healthy fox population in the area. They are inquisitive and playful and they will steal your stuff if you leave it out! Plenty of black bear sightings along the Hansen Lake Highway.
This place just never seems to get old… it awakens our senses after a winter in the city. Can't wait for all of you to arrive and have another great fishing trip on Jan Lake!
January 6, 2019
Yesterday we said goodbye to a dear friend and very special person to the camp. Sadie Horne was a founder and the life blood of a fledgling Three Lakes Camp. Her passion for the camp lasted throughout her tenure of 33 years and she is still well remembered and asked about among the many guests she hosted over that time. We were honored to be with her husband George and his wonder family as we shared stories, laughed and cried. Sadie led an awesome life, leaves behind a wonderful legacy and will be deeply missed.
January 1, 2019
Our tenth year running Three Lakes Camp has come to a close. Thank you for the friendship and support from all of you; our guests. You continue to make Jan Lake a place where people gather to be with family and friends, feel a deep connection to nature, and catch lots of fish! Most of all, you are what we look forward to!
We welcome 2019 with renewed excitement for the angling season ahead and wish all of you simple comfort and joy in the new year!
September 8 th, 2018
Another Fall season has arrived at Jan Lake with cooler days and overnight temperatures. The Hanson Lake Highway (Hwy 106) will be an incredibly scenic drive right now with all the color changes happening. Lake temperature is hovering around 55 degrees and the fish are hanging out at the 15-20 foot mark. Second Narrows, Otter Narrows, and the James Island chain have all received good reviews lately… that just about covers every corner of the lake!!
Check out some great photos at www.facebook.com/threelakescamp
July 1, 2018
Happy Canada Day! Summer at the lake is a wonderful thing… folks are enjoying the peaceful mornings with a cup of coffee in hand, packing coolers for shorelunch, getting the family rounded up for a boat ride. Fishing has been great, even with the recent fish fly hatch, the Walleye and Pike are biting hard. Imagine 10 fish after 10 casts… true story. Bottom bouncing with nightcrawlers has been deadly. Water levels are low to average right now, be cautious out there. It's time to slow down, get back to nature, enjoy a fresh catch. Have an awesome day everyone!
June 8, 2018
What a steady fishing season it has been on Jan Lake so far. The fish are everywhere and hitting consistently. Water levels are still on the low side. We've had lots of big Pike catch and release happening, and lots of quality Walleye in the 3-4 lb range. Yurij beat his all-time record by catching 500+ fish over a 3 day trip. Clint said his crew started timing the bites, and they were getting a hit every 8 or 9 minutes. Miles helped his young grand daughter land an 8 pound pike… talk about exciting!! It's just awesome to see a kid at the end of each dock casting away in the evenings. We've had a fair amount of rain in the area and are forecast to hit near 30 degrees this weekend, so thinking the nightcrawlers will be popular bait.
We've been busy with lots of renovations and changes on the shorefront. Most exciting is our new fleet of 25hp Yamaha 4-stroke motors. Lots of awesome features on these motors and the boys look forward to giving Yamaha 101 to anyone renting our boats! We've had lots of inquiries as to what we are doing with the old fleet of motors. They are for sale and inquiries can be made by calling the camp number.
It's been wonderful catching up with everyone who's stayed in May and early June; we look forward to seeing the rest of you very soon!
May 13, 2018
JAN LAKE IS WIDE OPEN
May 7, 2018
Ice went off the bay today and we expect the big lake to follow in the next week or so. Things are looking awesome for the May long weekend! Water levels so far remain quite low… especially compared to the records from last spring. Our first supply run into Flin Flon was a stark reminder of the forest fire activity last September with miles and miles of burnt forest along the highway.
We are eager to get a boat in the water so we can make a run out to check on the big ice. Looking forward to familiar faces and meeting new visitors.. see you all very soon!
April 11, 2018
Who's ready for shorelunch?
April 4, 2018
Another story shared with us that we are sharing with you. Yurij is definitely one of the most dedicated fisherman that visits us every year. He takes his annual trip very seriously and was rewarded with an awesome story. Yurij explains below:
A Day Not Soon Forgotten!
I've been coming to Jan Lake for about 25 years now and I've witnessed many a monster pike and walleye brought in to the docks at TLC. I've often wondered what it would be like to bring in such a catch. On June 8 th, 2017 I finally got my opportunity. We were marking some big fish on our electronics that morning but were mostly catching standard fare walleyes. I hooked one such marble eyed beauty and was about to land it. I declined net service and was about to grab the fish when a HUGE PIKE surfaced from beneath the boat and virtually snatched it right out of my hand. That freaked me out and I may have peed a little bit. My two buddies (Nick and Greg) saw what had just happened; and like two school girls having seen a mouse for the first time, they got very excited. My line sizzled off the reel as the fish dove deep to the bottom; and then......nothing. I reeled in and the walleye surfaced with a bloody gash in its side. Seconds later the massive pike emerge from the depths and began circling the injured walleye. "Quick, get the camera" I shouted, and we captured what happened next on video. Had we readied the net instead, we might have netted them both; but we didn't and the fish got away. The adrenalin rush we experienced was amazing, but we had nothing to show for it. Little did we know a second chance was only hours away.
Later that afternoon we trolled one of our favorite shorelines. I tossed out a pink marabou jig with a minnow into 18 feet of water. The strike was immediate and electrifying. About ten minutes passed before we had our first look at her. If you've ever hooked a big fish on calm, clear, sunny day, you'll know just how the water magnifies your catch. We were convinced we were looking at a 30 plus pound Northern Pike. I was connected to this missile by a tiny jig and 6 pound test line. Nick was looking nervous and rightfully so; he was manning the net. He knew it would be a long walk back to Saskatoon if things went badly. The fish made powerful runs in all directions around the boat, causing all sorts of chaos as we scrambled to get into the best netting position. Finally, after an epic 15 minute battle we pulled her out; a 43.5 inch beauty. There was much rejoicing! What is it about catching a big fish that makes grown men hug? The trip back to the TLC docks was indeed a memorable one. This catch of a lifetime is now is on display in my man cave. Viewing hours are from 8:30 am to 10 pm daily.
April 2, 2018

Fishing season is right around the corner and in the lead up we are hoping to stir the excitement with fishing stories and fish recipes. Today we are sharing the first of several recipes created by our long time guest and Sask. celeb Wayne Phillips.
February 17, 2018
Three Lakes Camp Fish Tales

Every year, there are memorable fish stories that come our way and we are excited to make a habit of sharing them! This story comes from Norm who has been fishing Jan Lake for dozens of years with his family and is now introducing his grandchildren to angling and the outdoors.

"On our annual trip to Jan Lake last summer (2017), I caught the biggest fish of my life!
I was with my son-in-law (Travis) when the fish hit my line. At first I thought I was snagged but then I felt a solid pull on the line and a bit of head shake. I started to reel in but the fish held fast, I knew I had something big! I became concerned because I was fishing with an UltraLite rod and reel with 6 lb test line. After several minutes of fighting, the fish finally surfaced. We were both very excited. At this point we realized the net was too small so we trolled into shore. I got out of the boat and landed the fish! Wow, what an adrenaline rush that was! We took pictures and safely released her."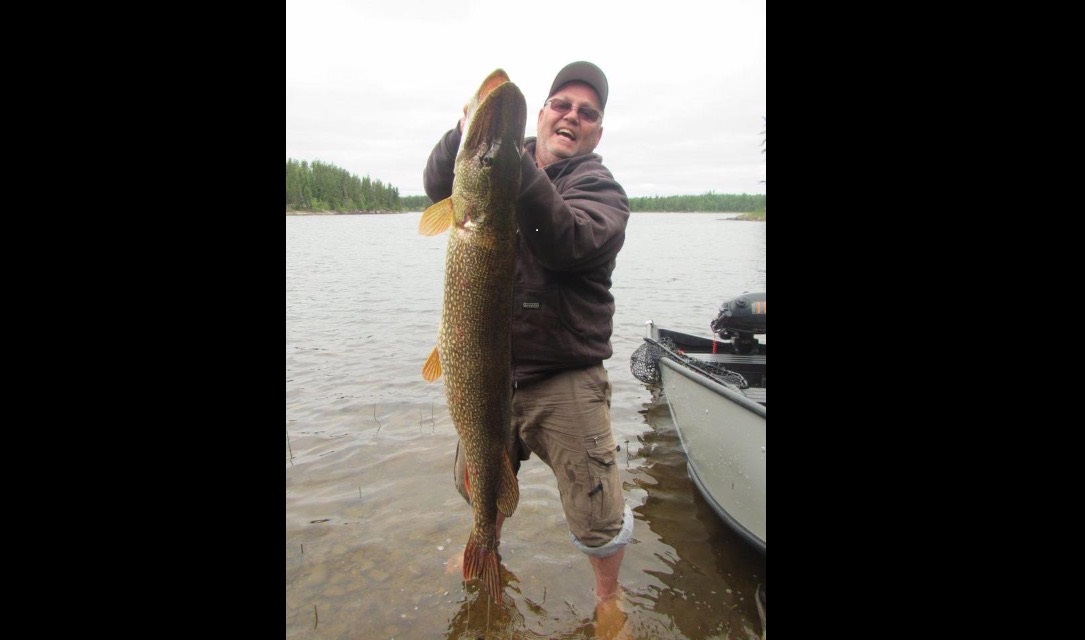 Sidenote: it should be said that Norm and Travis were in a very small folding boat and we are amazed they pulled in that fish; instead of the fish pulling them!!
If you've got a Fish Tale to share, please email us at info@threelakescamp.com


December 31, 2017
Life is what happens while you are making other plans, and 2017 has left us with a renewed respect for Mother Nature's agenda. It was an incredibly exciting season mostly due to weather events! The Coles notes version includes late ice-off in May, the highest water levels since the 70's in June, in July we experienced one of the most wicked wind storms we have ever seen, extreme heat and drought in August which led to evacuation due to wildfire in September.
Through all of this there were so many positives. Highlights include a visit from Yamaha Canada who brought a new 25HP 4-stroke motor for us to test out, as well as a couple of their mechanics from Japan. Of course we had to race one of our 25's; and the four-stroke won by a hair! Early June was monster Pike prime time and we will be sharing stories and photos on our gallery of several of these fine catches! First and Second Narrows were popular Walleye spots this year. In fact the current at First Narrows ran in reverse for a time, and this is what caused Jan's level to rise at the rate it did. As the water rose on our waterfront (as much as ¾'s of an inch a day!) our dock guys were quick to figure out resourceful ways of keeping everybody else's feet dry; sometimes at the expense of their own! As the boathouse quickly flooded (for the 4 th time in the last 15 years!!) we started brainstorming on how to reconfigure the waterfront, which as many of you know is long overdue! After the incredibly wild but brief windstorm in July, our previously flooded marina sustained some damage and many trees had come down in the area. The instant support and assistance from our staff, our guests, and our neighbours to clean up afterwards was simply unbelievable.
August was a beautiful summer month, although we were constantly aware of the smoke on the horizon. Mid month we had a week of the calmest summer days… picture stepping off your cabin deck, loping down the dock, and diving in for a refreshing morning dip in the lake… picture taking a paddleboard down the shoreline, not a ripple on the early morning water. At the end of the month we were delighted to host the wedding of our former employee Cameron and his fiancée Sarah. Shortly after they were married on the shores of Jan Lake, had enjoyed a weekend of water sports, and were safely on their way home, the community of Jan Lake evacuated due to wildfire threat.
SK Wildfire Management advised us at 1pm on August 29 th that the Granite fire was becoming an imminent risk, and by the next morning Jan Lake was 100% evacuated. Thanks to Saskatchewan Wildfire Management for an unbelievable effort and the support of all emergency response crews. We don't know how to thank you enough for working so hard to save what we love. We'd like to thank Deschambault Resort for their hospitality and kindness in our time of need. So many friends of Three Lakes Camp reached out with supportive words and actions during the evacuation. In the end, no structures were lost to fire in our community. The fire did burn as close as the communication tower on the Jan Lake access road, and it did burn down to the shoreline at the North end of Doupe Bay. The Wilkin fire also burned large portions around the North end of the big lake including Wilkin Bay, First Narrows, Busteed Island, and Otter. There will be lots of different scenery to explore next season.
As another year comes to a close, and a new year begins, our thoughts turn gratefully to those who have made our success possible. It is in this spirit that we say thank you and best wishes for 2018!
May 24, 2017
Ice finally went off the big lake yesterday! It's been windy alright. The boys are busy building another layer of boardwalk in front of the boathouse as water levels continue to rise. Government dock is just about under water again. Fish seem to be biting nonetheless around the eight foot depth. White jigs and silver or gold spoons are yielding good results. We shared our first pike chowder with friends this week and a walleye feed last night.
May 13 th, 2017
I think we may be dealing with some real life weather folklore up here at Jan. Apparently the old timers used to say that whatever the weather on Good Friday, 40 more days of similar weather was in store. On Good Friday Jan Lake got 8 inches of snow! Spring temperatures have been on the cool side, and we still have solid ice sitting out on the bay. There is minimal open water along the shorelines and some openings off the points of the islands. We are encouraged by the return of our Mallard ducks, and the flocks of cranes flying overhead.
Photos of ice action (or rather in-action) can be found at www.facebook.com/ThreeLakesCamp/
Please call or email us anytime for an update on conditions.
April 18th 2017
It's been a long winter, and we know you're all raring to get away and do some fishing. Twice in the last seven months Mother Nature has thwarted our attempts at getting to work in camp. Well we've reached the point of no return and its Jan Lake or Bust!!
Facebook ice reports will commence first thing in May, and for those of you interested in taking a stroll down memory lane check out the website photo gallery. 2016 photos have now been posted!
Rules and regs remain the same for the upcoming season. Possession limit for Walleye is 4 and Northern Pike is 5. We strongly recommend purchasing your angling licences online before leaving home at www.environment.gov.sk.ca. Three Lakes Camp is not an angling licence vendor.
We will be busy with several ongoing and new building projects this spring. It is exciting and fulfilling to renovate original buildings with so much history in their walls. The camp is now in its 6 th decade of accommodating fishermen and their families… if those walls could talk!!
See you all very soon…
January 1st 2017
Happy New Year to all of you; our family, friends, guests! We sincerely hope that 2017 holds new beginnings, small moments of joy, and peace in each of your lives. In this ever-changing fast-paced life we are living, it becomes ever more important to enjoy the simple moments and to focus on family and friendships. (Insert thoughts of idyllic moments in a boat on scenic Jan Lake with your favourite people here!!)
We had a wonderful season last year brought to an abrupt end with several feet of debilitating snowfall in early October. Hence we did not get as far on the building projects as we would've liked. But a new year provides for new opportunities and come spring we will be busy as beavers.
Ryan and I will be "out of office" until the end of January. I will be sending out confirmation emails and accepting deposits in February. We can still be reached at info@threelakescamp.com. Be sure to stop and see us at the Saskatoon Sport & Leisure Show March 2nd to 5th, and the Edmonton Boat & Sportsmen's Show March 16th to 19th.
September 7 th, 2016
Late summer fishing on Jan has been excellent. Popular destinations on the lake recently include Second Narrows, McMillan shorelines, the James Island string, and the North route up to Otter Narrows. Interestingly several Pike brought into the Fish Plant lately have been full of eggs. Water levels remain high, although some receding has been noted. This summer, First Narrows was flowing into Jan for a good part of the season and the Deschambeault Falls were a rushing sight to see. A wicked storm with high winds battered the community over the August long weekend making for a bit of an obstacle course departure on the Monday as a few trees had fallen across our main community road. Also noted on the lake was the appearance of a new island! A large floating mass of lake reeds (easily 200 feet across) must have detached from shore in the wind and was sighted by several folks floating around the big lake. Nobody knows where it eventually ended up!
To date, we are still picking wild blueberries and have not seen a bear in our area for quite some time. What a bounty of berries this year; in both size and quantity. Lots of wildlife sightings out on the lake this summer including black bear swimming between islands, caribou peeking out from shoreline vegetation, eagles overhead, and otters in the water.
Thanks to all the considerate visitors who enjoy Jan Lake and try to keep it a pristine paradise. Garbage removal, the dousing of shorelunch fires, catch and release of breeder-size fish species; these practices are all so appreciated and necessary to maintaining a safe and beautiful environment.
Check out the following link for summer photos from the lake!
https://www.facebook.com/ThreeLakesCamp/photos/?tab=album&album_id=1114767711932233
July 28, 2016
Now this is summer at the lake… pack up the family for a day of cruising on the pontoon boat. Itinerary includes catching a few fish before noon, shorelunch at McCluskey Beach, and then a swim to cool off. Water temp is hovering near 72 degrees, and water level is nearing high water marks. Fishing slowed a few weeks ago during the fish fly hatch, but has picked up and remained steady despite the summer heat. The North route has been popular heading through Otter Narrows. Lots of nice fish up there; we saw a photo of a 10 pound catch and release Walleye and have heard several accounts of the great Northern Pike who wouldn't fit in the net which makes us fairly certain that " Jan Lake Janice" lives North of Busteed Island.
Blueberries are unbelievable this year, although take caution when heading back into the woods, as the bears are enjoying the bounty too. Thankfully we have not been under fireban yet this season; we've been getting enough rain to keep the risk on the low end. In late June we had a couple of flare-ups in the area due to lightning strikes which garnered speedy response from fire base.
After a day out on Jan's sparkling waters, there's nothing better than kicking back with a cold one while fresh fillets cook on the grill. Maybe even time for a paddle in the bay as the sun sets.
June 10 th, 2016
The sun is shining and the fish are biting, just call and ask! Actually we have been overcast and rainy for the last few days at Jan Lake. It is welcome moisture and contrary to popular belief, the fish are not hiding under rocks trying to stay dry!! The spring fishing has been awesome, tons of action for both Walleye and Pike. Depth is around 15-18 feet right now, with bottom bouncing and jigging being the techniques of choice for most. We carry frozen minnows and live crawlers in our store. This spring we had Pike days on the docks where everyone who came in had a crazy story to report about a voracious Northern biting into the fish they were already reeling in, or jumping clear out of the water beside the boat. One guest caught his limit in his first cast! He literally reeled in a stringer of recently caught Walleye, all still alive and kicking. All the fish stories at Three Lakes Camp are verified and true.
Lake level is moderate. While we strive to keep several rocks and reefs marked out there on the water, please be cautious. As of today, we are not on fireban; enjoy your shorelunch out there and remember to douse that campfire. It seems to be a spectacular year for wildlife sightings including nesting Eagles, Loons, Pelicans, Mama Mallard with sixteen ducklings this year, Caribou, Bear and of course the friendly camp woodchucks.
Heartfelt thanks to the wonderful staff and volunteers who helped us open camp in May. Because of all the helping hands, we completed the lifting and renovation of two more waterfront cabins, the installation of a new roof on the motel, and all the regular spring chores. Ice off the bay May 2 nd and summer-like temperatures helped matters immensely!
If you are heading our way soon, don't forget to purchase your angling license online at www.environment.gov.sk.ca as we are no longer vendors. Check out www.facebook.com/threelakescamp for the latest fishing photos!
May 1 st, 2016
We are so excited to be starting a new season at Jan Lake. These beautiful spring days make opening camp such a joy. The ice on the bay is disappearing fast with all the sunshine and above zero temps we've been getting. This morning was overcast with light showers; much appreciated moisture as we all have last summers forest fires top of mind.
One of the old tales you hear about Northern Saskatchewan is the "fish running at Puskwakaw river". The lore goes that the walleye would be so thick that you could walk across the river on their backs. Hundreds of fishermen would line the shore elbowing their way into a spot. It was said you could literally catch fish with a bucket and a quick hand.
We were reminded of this spring run while picking up a load of lumber from the Bednarz sawmill (Three Lakes Camp's chosen master lumberjacks.) So on the way back up to camp we stopped at Puskwakaw and saw these little walleye hanging out taking a break from the raging torrents. At least a dozen within sight from the one spot on the shore. Fishing here at one time was so popular that it was decided long ago to close this waterway to fishing so the walleye could spread out down stream.
We look forward to seeing all of you this fishing season, it's time to pack your tackle boxes and head North!
March 1st, 2016
It's not necessary to cross the ocean to discover new things or to relax in a beautiful place. Drive to Jan Lake and and explore a piece of Northern Saskatchewan's boreal shield lakeland.
Ever see a bald eagle pick a fish out of the water on the fly? Or a black bear swimming across a channel? Check out a pelican flotilla, try bottom-bouncing for a walleye.
Ever tried paddle-boarding, or filleting a fish? Have you ever made coffee in an old-fashioned perk? Ever tried fly-f ishing for a pike or learned to use a compass?
Explore an island and appreciate the raw rock formations and intense color of lichen that grows there. Cruise along any shoreline on a calm day and meditate on the reflections. Reflect on life. Enjoy the view. Let nature be your therapy...
February 10 th, 2016
Shout-out to our Colorado fishing friends, congrats on the Bronco's win!
It's February and we are gearing up for Sport Show season. See us at Prairieland Park for the Saskatoon Sport & Leisure show happening March 3rd to 6th. We will be spending March 10th to 13th at the Edmonton Expo Centre for the Boat & Sportsmen's show. Stop and chat with us at the Lloydminster Showcase on the Exhibition grounds April 1st to 3rd.
Don't forget Saskatchewan Environment is offering fr ee fishing February 13-15 for Family Day long weekend! Although we are closed for the hard-water season, this winter the ice fishing throughout the province has been fantastic!
January 11 th, 2016
The following is an excerpt from a submission to our Jan Lake History project by a wonderful group of guys who've been exploring Jan since the 80's. While a lot of change has occurred at Three Lakes Camp since then, on the lake itself, you will be treated to a sense of timelessness. In 2000, the Government of Saskatchewan declared Jan Lake a part of the provincial RAN (representative Areas Network) making it an Ecological Reserve. Since there is no other development on the lake outside of our little community on Doupe Bay, one can truly get away from it all and get back to nature out there on the water...
Thanks Bill for sharing a special glimpse into your fishing trip traditions.
"Our group started coming up to TLC in 1982 when it was run by George and Sadie Horne. We learned about it from a couple of school teachers that had been going up with their father and knew George. They allowed us to tag along. Our first trip was something to remember—central shower and toilet facilities, generator power and big fish to name a few.
We have continued to make the trip every other year since 1982. The group has changed, but this enthusiasm and excitement of the trip have not. Our group hails from a small town— Yutan, Nebraska, near Omaha. We drive for 22 hours to get to TLC. We keep getting older and the drive keeps getting longer, particularly on the way home.
We enjoy Jan Lake, trying to navigate it and finding the hot fishing spots. Each time we come we learn some new spot or some new information. Our typical day consists up getting up, eating breakfast and making sandwiches, crawling in a boat and fishing until noon, having shore lunch of sandwiches, fishing until 6:00 or whenever someone can convince the others to go in. When we get back, we clean fish, eat supper, play cards and go to bed. Our supper consists of fish every nite but the last, when we enjoy a large, oversized steak. We also include cocktails at the evening card game to deal with the snoring that the cabins seem to cause. Most guys swear that they do not snore.
We have seen a lot of changes to TLC over the years. The bathrooms and showers were a major improvement. Microwaves, coffee makers and other modern conveniences have also been nice. The deck over the dock house and floating docks are also signs of progress. Padded seats in the boats were welcome and this year depth finders have been added to all the boats. We were one of the first ones to use the new fish plant.
The fish limits and amounts of fish have been reduced over the years. On our first trips there were no size limits or trophy fish. I think that we could take home 10 walleyes, then 8, then 6 and now 4. People wonder why we keep going when we can't bring home that many fish. They need to experience the lake and TLC to understand what the allure is. To me there is nothing like getting on the lake, feeling the lake and taking in the fresh air and pristine waters. Navigating the reefs, islands and rocks add to the challenge.
Two of us have made every trip to TLC. Two others have made all but 1 or 2 trips. I have taken my father in the past and now take my son. We have a great group of guys that get along amazingly well for a week in a 20 X 20 cabin. We all enjoy each others company, the desire to fish, and the challenges that the lake provides us with. Its always nice to get back to the docks and have the TLC people tell you how big your fish are and how good of fishermen we are..."
January 2nd, 2016
The 2015 photo gallery is up on our website! Click on the Photos Button to check out a day in the life at Jan Lake…
December 9th, 2015
While we already are dreaming of blue skies and sparkling water... the North is at rest under a blanket of snow. A roadtrip to Jan Lake in December gifted us with neighbourly help and hospitality, peacefulness in the still landscape of a frozen bay, and the bubbling excitement to get back at'er come May!! Before we know it the fish will be jumping and you will be savouring those days out on the big lake. Thanks to all of you who join us at Three Lakes Camp each year; for your continued patronage, and your enthusiasm for Jan Lake. We wish you a lovely winter season... see you in 2016!!
August 3rd, 2015
Picture this…
Dock activity on a calm August evening at Three Lakes Camp. Grandpa teaching his little grandson how to cast, a couple with their new baby watching the sunset, laughter and splashes as a family jumps in the lake and plays on the paddleboards. A group lounges on the big deck visiting under the big sky until dark when the fireworks start.
Come visit us at Three Lakes and enjoy the simple pleasures the lake has to offer.
Let us be your cabin at the lake!!
August 1 st, 2015
"August is like the Sunday of summer." -Unknown
Long-term forecast for the month is looking decent with highs steady around the 20-25 degree mark. It has been windy over the long weekend, making for rough rides across the big lake, however many have had luck shooting the North route and fishing anywhere between the North end of Doupe Bay and Otter Narrows. Second Narrows and in amongst the islands is always popular.
August is a time for longer stays (check out our week package). Lazy days of summer rules apply…
Sleep in… or get up early
Savor a steaming cup of morning coffee while soaking up the view
Fish all day… or catch a few
Cook up a meal and enjoy it alfresco
Be reminded that life is good!
July 5, 2015
Three Lakes Camp is open for business! Depending on wind direction, we are experiencing smoke from fires burning in the province. At times, it has been fairly thick making for reduced visibility, however today with a wind from the North, we are clear. Hwy 106 ( Hanson Lake Hwy) is open and reports good driving conditions. Please feel free to call us anytime at 306-632-4500 for current updates on smoke conditions in the Jan Lake area. We also recommend the following links:
http://www.environment.gov.sk.ca/firefiles/activefires.pdf
June 28th, 2015
Summertime has arrived at Jan Lake... Today hit 30 degrees and tomorrow is supposed to do the same. We are again experiencing a smoky haze as winds from the West push La Ronge smoke our way. A new fire ban is in effect for Northern Saskatchewan, including Jan Lake. Lake levels remain on the low side; about a foot and a half lower than this time last year. While the fish are scattered all over the lake, there sure have been some nice catches. Again nothing fancy is needed to lure a bite. Good ole' jigs & shiners can't be beat!
June 8 th, 2015
Good day and greetings from camp. Things are hopping around here! Docks are extremely busy with rental boats and private boats coming and going all day long; keeps our boat guys running!! Our fishplant is a hubbub of activity come suppertime; juicy fillets are dispatched from the fish shack directly into the frypan.
Water levels remain low, and the bush is still extremely dry around here. While the fire ban has been lifted, we do urge extreme caution when it comes to any open fires out on the lake for shorelunch. Fish tubs also make good water vessels for dousing a campfire.
Yesterday winds from the South and West pushed heavy smoke through Jan Lake from forest fires in those areas of the province. A smoky haze has settled in today; but we are hopeful for some showers tonight to clean the air.
May 26 th, 2015
Every day in camp is a new adventure…
From prospectors jumping on a float plane and flying away from our docks for a day of work in the bush to family group photos taken by a drone! (Thanks Ron for sharing some truly amazing overhead shots of camp!!)
We heard the best 25lb Northern Pike story… a father and son manage to land the beast in their boat but not without a struggle!
The fishplant was once again turned art space for the afternoon while we created numerous fantastic fish prints. (Thanks again Terry for your artistic inspiration!!)
Water levels remain low, so be careful out there. The first cool day in over a week and the fishing turned on with a vengeance. Everyone on the water today reported unreal Walleye action!! The fish seem to be hungry. If the fish stories are true, there have been a couple of amazing catch and release monsters. No question the Walleye are exceptionally beautiful this spring. Bottom bouncing and drift fishing will net good results.
May 17th, 2015
We're into the swing of things now! Cabin 6 reno wrapped up just in time for it's first guests, boats are in the water, docks are out. We had 25km winds yesterday which made for a rough ride across the lake, but still some nice fish came in. Nice eater Walleye, a couple impressive Pike. Impressive girth on them! Red and white stripe Len Thompson spoons are killer right now. Apparently Roughrider spoons are a close second. Get your tackle box ready, start the car!! Jan Lake is where you want to be!
May 5 th, 2015
We were so busy running around camp today, we didn't notice until we sat down to eat supper that the ice had gone off the bay!!
April 23, 2015
Hi folks! It's just about that time of the year again… Spring angling on Jan Lake opens May 15 th. If you want to keep an eye on the weather up here, check out
www.theweathernetwork.com/weather/canada/saskatchewan/pelican-narrows
We will be in camp for good on May 1 st and shortly thereafter will commence ice updates regularly on our facebook page
www.facebook.com/ThreeLakesCamp
We do have dry gravel in our yard already and a small bit of open water showing around the shoreline. The long-term forecast is looking just fantastic for our spring start-up projects! We will have a couple of cabin renovations completed by opening this year, as well as the usual dock work and spring cleaning.
Just a reminder that we are not vendors of angling licences; they are available at
If you have any issues with obtaining your angling licence online, we recommend calling the help line at 1-855-848-4773.
We are so pumped to get this season started!! We look forward to greeting each and every one of you at check-in, making sure you are comfortable in your accommodation, and untying your boat as you leave the dock. Jan Lake is a special place that so many people return to year after year, or decades later for that matter! Once you leave our docks, and take off across the bay, you will experience a type of euphoria… wide open wilderness and water all around. It's amazing!!
When George Horne named Three Lakes Camp, he said he was looking at it from a bush pilot point of view. The three lakes refer to Jan, Pelican, and Mirond. Back in the day George not only built and operated two fishing camps; he also maintained several outposts. Did he realize the acronym of TLC? In this present day, we pride ourselves on providing the same care that has been delivered at Three Lakes Camp since it was built in the sixties. We invite you to stay with us at Jan… let us be your cabin at the lake!
March 10, 2015
Spring-like temperatures, birdsong, and bright sunshine turn our thoughts to the lake, and make us itch to get out of the city. The countdown to May is on in our household!
It was our pleasure to attend the Saskatoon Sport and Leisure show once again. We enjoy the friendly crowds, always eager to share a fish tale or two… Next up; Edmonton Boat and Sportsmen's show. If you are in the area March 12-15, be sure to stop by and check out our booth. We will make another road trip at the end of the month to Lloydminster for the Exhibition, so come on by March 27-29.
January 16, 2015
Thanks again to CO/RCMP Game Dinner hosts for the opportunity to promote our business! A pleasure to catch up with friends and to make new contacts. A shout out to Jason with Matitysgetfishing.com ; great fishing stories and tackle tips!!
January 8, 2015
2015 is the year to treat fish with respect! Let's all be mindful to maintain fish population and the pristine environment they need to flourish for future generations. Practice catch and release, savour a fresh catch rather than freezing, pack out any garbage…
http://www.thestarphoenix.com/sports/Respect+fish+their+habitat/10710962/story.html
January 2, 2015
Part 2 of Smitty and Steve's adventures had them chasing Jackfish on Jan Lake. We really liked their fish handling and the cool underwater release shots. Freshly caught Pike makes for an excellent panfry, BBQ, or chowder feast. Check out the latest video by Fishingsaskatchewan.ca
Happy New Year!!
December 1, 2014
This fall, it was our pleasure to host Steve and Smitty from Fishingsaskatchewan.ca. Here is the finished product of their Jan Lake expedition! You may recognise the guide who accompanied them..... best we could do. It seems they were very careful to protect Garry's secret spots. We don't even know where they were!
https://www.youtube.com/watch?v=78xJIRKIicM&list=PLqaz5wSzKGeFip_iy5NomBxzAwga3kf1F&index=1
October 5, 2014
Six years ago, we took over operations of Three Lakes Camp. While we had some idea of what we were in for, we certainly could never have predicted the escapades we were to experience as outfitters. This has been our best year yet, and we would like to thank you; our family, our friends, our guests. We continue to meet the best people, and make the best friends with big hearts and adventurous souls.
It is a wonderful thing to spend our days at beautiful Jan Lake doing what we love. Thank you all for your support, and we look forward to opening again in May 2015!
September 18, 2014
Jan Lake is a place for gathering with friends for a perfect mix of adventure and relaxation. Even with the cooler temperatures of our fall season, many folks have visited us here in camp for the fishing, for the opportunity to read a good book, for the taste of fresh Walleye and Northern Pike. Come for the solitude, or come to spend quality time with your family. Come to Three Lakes Camp to enjoy days that are simple… log cabin, lake view, loons call.
Berry-picking, shore-lunching, and fish-rubbing include some of the extra-curricular activities enjoyed by our guests lately. The fishing has steadied out since the weather cooled off about three weeks ago. Bottom bouncers are a Jan Lake fisherman's best friend. Gold jigs and spinners have been popular as of late.
Thanks to Steve, Kyle & Smitty of FishingSaskatchewan.ca for spending a week with us this September. We look forward to catching the Walleye and Pike episodes filmed on Jan. Camp is open right till the end of the month; pack your tackle box and head up the Hansen Lake Highway!
July 15, 2014
Seize the day at Jan Lake this summer…
Get up before anyone else and go for a peaceful paddle down the shoreline
Explore an un-named island, and make it your own; share a shorelunch with friends and family
Swim in the lake
Turn off your phone and your computer; seek out a tiny piece of tranquility
Fantastic recipe for Seafood Chowder from Fishingworks.com

12 oz pike and salmon fillets
8 oz shrimp
2 cups chicken broth
1 cup sliced fresh mushrooms
1 large carrot sliced
1 med onion chopped
1 clove garlic minced
1/2 tsp dried marjoram crushed...
1 bay leaf
1/8 tsp salt
1/8 tsp pepper
1 (15oz) can tomato sauce
2 lg tomatoes peeled seeded and chopped
2 tbsp parsley
1/2 tsp finely shredded lemon peel

Cut fish into 1 inch pieces. In large saucepan, combine broth, mushrooms, carrot, onion, garlic, marjoram, bay leaf, salt & pepper. Bring to boil, reduce heat. Cover and simmer 10 min or until veggies are tender. Stir in tomato sauce, tomatoes, fish and shrimp. Return to boil, reduce heat, cover and simmer 2-3 min or until fish flakes easily. Discard bay leaf. Sprinkle with parsley and lemon peel.
June 10, 2014
Are you all tired of hearing how good the fishing on Jan is? How many remarked last year it had been one of their best? Well, as far as size and numbers, this season is turning out to be even better. Since Harper's cooled off, First Narrows, James Island and McMillan Point have been the hot spots. As Wayne Phillips put it in his article (see link below)… "hungry jig-smashing walleye" are plentiful. We are loving the new LF Len Thompson spoon… chartreuse with orange diamonds… check it out!
http://www2.canada.com/saskatoonstarphoenix/news/sports/story.html?id=135bbf1f-f891-4110-8e93-02318b46722c
Poem for June...

paper white birch trunks
leaf green buds
bird song
men laughing
laundry line squeaking
docks creaking
a line is cast and the jig hits the water with a little splash
beautiful walleye...
boats coming in
wake lapping against the shoreline
ducks quacking
evening sun
easy chair on the deck
glass of wine
plaid jacket
June 1, 2014
The sun is shining, and the fish are biting!! Just call and ask!
9 ½ pound walleye caught the other day on a worm harness, and no shortage of pike in the 20 pound range.
It's been gusty out there for the last couple of days. But the sun was shining today and that makes all the difference. Park the boat on the sheltered side of an island and cast into sparkling waves.
Hello Northern friends and visitors!

Diana and I would like to compile a Jan Lake History book because as time goes on, this history will be lost forever. So we are needing your help to achieve this task. If you could write about your experiences such as what year or how long you have been coming, your travels to Jan, your stay, how was the fishing, what improvements you have seen since first c...oming, any stories or funny anecdotes...

These are just guidelines, as we would appreciate any information or accounts. Also if you have any pictures to share, we would be most appreciative! You can email Diana at d_lejan@hotmail.com or myself at info@threelakescamp.com, or mail us your story, or bring it with you next time you come.

This will be an ongoing project for us, but an interesting one... think of all the people from the world over who have converged on Jan Lake at one time or another; so many adventures! If you have any questions please do not hesitate to ask; we will be glad to help as much as we can.

We are looking forward to your story,

Thank you

Diana and Jasmine
May 23, 2014
Good morning, a bit overcast today, but completely calm. The lake is like glass and the reflections are amazing. Ducks, Loons, Greebs, and Chickadees belong to the early morning orchestra playing as I sip my coffee. Yesterdays temperatures were in the high 20's and it felt great to go for a reconnaissance boatride to cool off. The ice on the big lake is thin and patchy. Between the bay and the big lake the water temperature difference is a stunning 8 degrees.
Around camp, despite having a late start, we got our new fishplant online last night. I know that some of you are going to miss standing in a puddle as you fillet your fish…
Docks are out, boat are in, fishermen's tall tales are already abundant!
May 19, 2014
The ice is on its way off the bay! Whew… what a marathon spring! We will be putting docks and boats in the water today. Already have a few groups in camp who've already caught some decent pike off the docks. Bring on the 2014 fishing season!!
Cheers!!
May 15, 2014
It's 20 degrees and sunny with a south wind, and it still looks like Christmas around here! As far as the surface of the bay goes anyways… we do remain hopeful however, that things clear up in the next day or two. We want to get a boat in the water so we can check out what the big lake is looking like. North end towards Otter Narrows could very well be open. Will keep you posted…
May 10, 2014
That darn ice is still holding on people!! Less than a foot of thickness to go, open water along the shoreline, cracks forming, and looking pretty dark and rotten. Up to date photos can be found on our facebook page… the fishes are under there!
April 2014
Well folks, it's been a long winter… tantalizing bits of spring have been dangled in front of us, only to be yanked out from under us with below zero temperatures on the weekends and random blizzards blowing through. I for one will savor that first morning coffee up at Jan in May with the sun on my back, while studying the ice melt on Doupe Bay. Daily Facebook reports will commence early May, and we will keep this page updated periodically as well.
Over the past couple of months, we have attended the Denver Sportsmen's Expo, as well as the Saskatoon Sport & Leisure Show. Great to shake hands with returning guests, and have the chance to put Three Lakes' name out there.
Waterfront cabins are still available for opening weekend. If you are thinking about bringing the family up this summer and taking advantage of our week package deal, we still have openings starting July 21 st. Don't forget September ( Jan Lake's best-kept secret) when we offer our 15% off fall fishing deal.
We are literally chomping at the bit to get up there, and get camp opened! Look forward to seeing all of you!!
June 13,2013
Simply put, the fishing is hot on Jan Lake this season! Returnees keep commenting that this is one of their best years yet. The fish must be hungry as lake levels are low. For this reason, use caution out there; watch for rocks and reefs!
June 3, 2013
The sun is shining and the fish are biting! Lower lake levels and late ice-off have attributed to fantastic fishing conditions right now. Walleye and Pike are biting down at Harper's, over in the Narrows, and right off of Dock number 5. McMillan Point is coming up a lot in conversation; some nice walleye being caught in the area, as well as many bear sightings. What are they biting on? Nothing fancy; pink jig, white double-tail. Minnows and crawlers are working well.
We haven't had any rain yet this season, regardless everything is in bloom. Nights have been cool, mornings have been calm. Daytime temps have been in the low twenties.
***NEW!!*** We've got a new addition to our rental fleet! For $330/day our 20' Harris Pontoon is decked out for fishing in comfort with swivel seats, rod holders, depth finder, and live well.
May 19, 2013
Ice went off the bay May 14 th… thank goodness… we were getting tired of looking at it day after day! It's not completely off the big lake yet, but it is possible to travel up the North shore as well as around Schweitzer and in among the islands. Another couple of days and we'll have access to Harper's where the Walleye are delicious!
Weather has been gorgeous over the last couple of days. Trees are budding out and the Cranes are flocking overhead. Lots of fish in the bay, amazing northern light shows at night, Loon calls echoing across the water.
May 7, 2013
Spring is taking hold slowly but surely. Temperatures have been in the twenties for three days now. We have been enjoying blue skies and hot sun; today the wind has picked up slightly. That's the good news... sadly we still have a rather thick slab of ice sitting out front of the camp. With eight days left till the season opens, we'll be honest, it is going to be tight. From what we hear Jan is doing better than a lot of the southern lakes. It is totally possible for the ice to be gone if the weather holds. We have not been freezing at night and there is some open water appearing around the shoreline.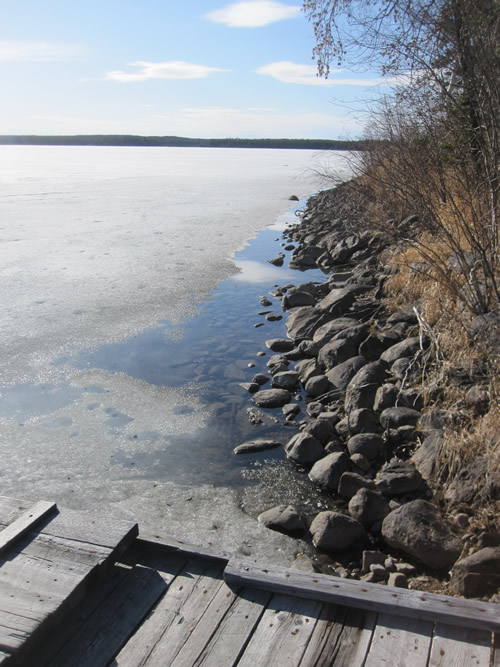 April 1, 2013
Good day! Spring is in the air! Time to dig out your tackle box and fishing rod to be sure everything is in order. Before you know it, you'll be headed north; destination Jan Lake. You know that 30 pound Northern Pike of your dreams? (we call her Jan Lake Janice) She'll be lolling about just waiting for a tasty morsel of bait to drop in front of her this spring…then you'll have a fight on your hands!
Reeling in that feisty, glittering, perfectly plump 20 inch Walleye will start your mouth watering for shore lunch. The cold, clear water of Jan Lake produces gourmet fillets second to none. Ask us about our shore lunch kit which contains everything you need to enjoy a rustic meal on the rocks.
Excitement abounds as we prepare to head back up to the lake and open camp. Mid-March, we spent a week in Edmonton promoting Three Lakes Camp amidst the crowds at the Boat & Sportsmen's Show. Can't thank Doug & Mariette enough for their hospitality! Back in Saskatoon now, we are still taking last-minute bookings, and gathering supplies for our list of spring jobs!
**Important change for 2013**
Please be advised that we will not be selling fishing licences in camp this year. Check out the vendor listing or purchase online at http://www.environment.gov.sk.ca/licences/ or by phone at 1-855-848-4773 starting April 1 st.
March 5, 2013
Saskatoon Sport & Leisure Show, 2013
Thanks again to the folks at the Wildlife Federation… another fantastic show! Thanks to all who stopped by the booth to check out our camp. Three Lakes has been catering to fishermen and their families for over 50 years. Manning the booth all weekend we are presented with a veritable snapshot of the camp's history. We've heard stories about the building of the Hansen Lake highway, school field trips to Pelican Narrows, canoe adventures through the Churchill water system. Fish stories big and small! (Told by those young and old!) Some stop by to trace the route to their favorite fishing hole on our map, others lean in close hoping to glean a few secrets!
We are always on the ready for your stories and photos. If you've got a moment on Jan that you'd like to share then let us know.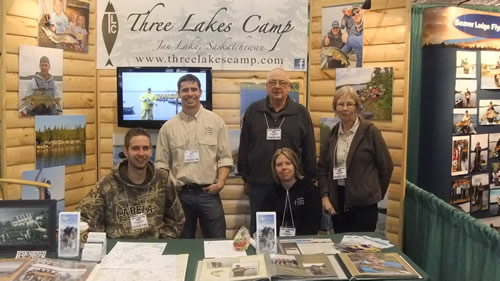 January 2013
Hello all, hope everyone is enjoying their winter. What's not to love about shoveling the sidewalk every second day, and trying to maneuver your vehicle in the snowy street ruts? At least that's been our experience in Saskatoon over the last month or two! Things are looking up though, as we will be attending the awesome Saskatoon Sports & Leisure Show at Prairieland Park February 28 th to March 3 rd. We love hanging around in our booth all weekend visiting with friends and promoting the camp. We will also be present at the Edmonton Boat & Sportsmen's Show at Northlands/Expo Centre March 14 th to 17 th. Come on out and say hi!
So if deep freeze temperatures and overcast skies are getting you down lately, take a moment, close your eyes, and envision that perfect moment on Jan Lake. Remember that thrill of revving up the boat motor and sailing around Lou's Point, weaving through the islands, and reaching the entrance to the big lake. Sunlight reflecting diamonds on the water as you head for your favorite fishing hole. Drop a line, and slowly start to unwind as you drink in the astonishing scenery that surrounds you. Now we've got you thinking!
We are in the process of collecting deposits for the 2013 season. If Jasmine hasn't been in contact with you yet, you can give her a call to confirm dates, or just chat about the weather! We can also be reached by email.
July 17, 2012
Here is our mid season summary! We have been really caught up with our facebook business page (facebook.com/threelakescamp) and as such, have not been updating the news page as much as we should!!
The Fishing
It has been a phenomenal season for walleye and pike. Many have commented that this year has been their best fishing on Jan yet. Though they may have been harder to find there were some trophy sized pike caught fairly early in the spring. The fish spread out all over the lake quite early as compared to previous years with walleye coming out of Otter Narrows as early as the end of May. Another peculiarity was that, despite the heat, walleye were still being caught in the shallows. Fishing in five feet of water at the south end of Harpers Island was still popular and successful into July. Not exactly where we would advise the July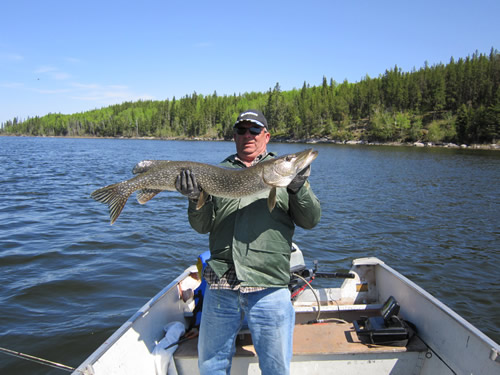 fisherman to go but what do we know anyway.
One group we had early in the season brought in more perch than we normally see all year but despite much interrogation would not reveal their secret perch hole or techniques. This mystery spot has since been dubbed the black hole and is open to interpretation as to its whereabouts.
The fishing off the dock has been notable this year with a regular gathering on the camp docks
and downright competitive atmosphere on the government dock. Lots of walleye caught right close to home with unconfirmed reports of a 14lb walleye being caught off the government dock. As one who sells gas I still maintain that the only fish on this lake are 14 miles away at the second narrows and all these fish being caught in the bay are just isolated flukes.
Overall fishing has had very few "slow" days. This kind of fits with what we have seen following high water years. We fully expect this to continue into the fall season.
The Fires !!!
We lost a small un-named island North of Schwitzer Island last week due to fire. Cause is unconfirmed however there was a firepit spotted on the rocks; likely a shorelunch was cooked, and the firepit did not get properly doused. Add to the excitement, a forest fire that flared up just behind our camp on the same day around noon. Thanks to the rapid response of many in the Jan Lake Community, of the water bombers from La Ronge Airbase, and of firecrews out of Pelican Narrows and Deschambeault, the threat was quickly under control. The heat wave has abated somewhat, however ther
e doesn't look to be any decent rainfall in the forecast. Best place to be right now is out on the lake bobbing around in a boat, nice breeze blowing from the West.... "wind from the West, fish bite best"!!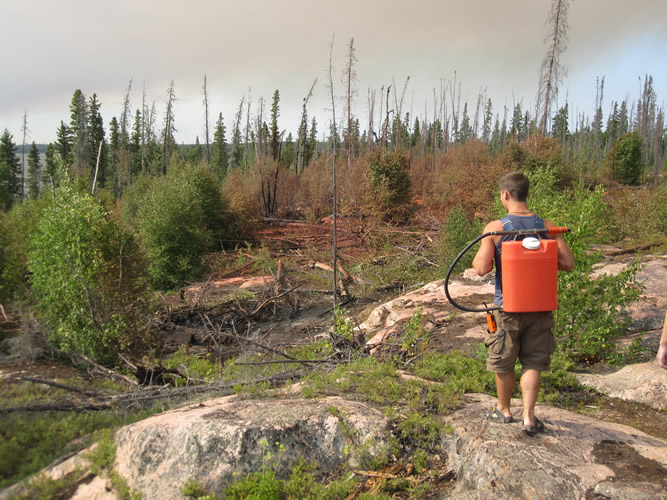 The Fun
This year, the fireworks show off our docks in celebration of Canada Day was second to none. Thanks to the Corbeil/Powers gang, the Hufnagel family, and the Ukranian connection for your generous contributions! Too much firepower to be set off near the boats we loaded a barge and launched from out on the water. Didn't see much myself as I was on the lighting crew but I am told it was quite spectacular.
(Thanks Gary for the Photos)
Can't really speak for the guest but from a staff perspective this has been a really fun year. It reminds me of when I was working up here for George. Lots of adventures and funny stories. Even after the stress of the fires you'll find yourself saying "holy cow what a rush!!!"
At the risk that they might read this I have to say that we really have an all-star staff this year. Cole, Richard, Stuart, Brenda, and Kailey have been outstanding and Jasmine and I are truly grateful. Also Cam was a big help this spring. A big thanks to our volunteers Garry, Darlene, Bernie, Tania, and Mike.
May 27, 2012
Finally some shorts-and-tee-shirt weather!! Just had to take some time this afternoon to sit on the deck and soak up some sun.
Fishing is awesome up here! The Mulligan/Ryckman crew from Colorado reported catching upwards of seventy walleye per boat during their first day down by Harpers, some of which they kept and ate for their shorelunch. Doug and Joe from Edmonton caught and released the fish of a lifetime in the Narrows yesterday. Check out a photo of this 47" long monster pike on our facebook page. There must be a school or two hanging out in the bay, as fishing off the end of the docks has become an engaging evening pastime even after spending the whole day out on the lake!
Friends Jim & Terry from New Mexico brought up the paint, paper, and rollers for us to try a technique called "Fish-rubbing". We temporarily turned the fish plant into an artist's studio and made several unique walleye prints. Of course the paint was water-soluble so we didn't ruin anyone's fish dinner.
Speaking of fish dinners… here is a fantastic Chowder recipe from Tania's cabin kitchen (Ryan's Mom!):
3 cups diced potatoes
1 cup diced carrots
1 ½ cups diced onion
Barely cover with water and boil til ALMOST cooked.
2 – 3 cups diced DEAD jackfish
Add to veggies and cook 3 – 4 minutes.
1 cup milk
2 tbsp cornstarch
Add to thicken.
1/3 cup butter
Add.
Parsley to taste
Pepper to taste
2 – 3 tsp in total of garlic salt, onion salt, and salt, or to taste!
May 18, 2012
Good day! Harper's Island was the place to be this morning. Bit of a rough ride across the big lake, but it wouldn't be May Long Weekend without some blustery weather. First anglers of the season were reeling them in under overcast skies. The old stand-bys were working great; chartreuse jig with minnow or red & white spoon. Lots of Pike ten pounds and better. Feisty little Walleye kept us busy with the pliers.
The Birch and Poplar are just starting to leaf out adding color to the lakeshore. Have been getting drizzle for the last couple of days, and with more precipitation forecast, there is currently no fire ban.
Have had a couple of delicious fish feeds since opening thanks to our dedicated staff who love to get out on the water in their free time.
FYI: We've had a cancellation for June 3 rd -9 th (waterfront cabin), and still have availability for the week of June 25 th.
May 9, 2012
Ice off the bay! We can safely say I lost the pool as the ice was officially off the bay yesterday. We were able to put some boats in the water and motor out to the edge of the main lake. Still ice there but it is really rotten. I am quite sure we'll be fishing Harper's Island by opening. Frequent updates can be found on the facebook feed.
The last of our staff arrived yesterday and we have been working steady for about a week. Spring projects this year are mostly down on the marina building up boardwalk that was underwater last year.
In other notable news we will be carrying premium fuel this year. We have limited availability for the May long and still have some openings for the week of May 21st.
March 13, 2012
It's March already! The weather is gorgeous… time to come out of hibernation! We attended the Sport & Leisure Show in Saskatoon last weekend and it really got the "lake- bug" stirring. It was an absolutely outstanding turn-out for the show. We understand they broke all kinds of attendance records. Jan Lake is well-loved… it showed as we struggled not to lose our voices visiting with eager fishermen and their families. It's so good to see lots of familiar faces; thanks to those who stopped by the booth to say "hi".
We were talking extensively with the various outfitters, ice-fishermen and snowmobilers. The word is that although there may be a fair bit of snow up North, the ice on many of the lakes is not overly thick. In some reports, it's barely safe enough to drive on. If this is indeed the case, and this weather keeps up, we could be looking at an early ice-off. Keep your fingers crossed, and be sure to keep checking our website and facebook page; we will keep posting the ice status. Fishing season opens on the 15 th of May… if the ice is out we'll be out fishing; come on up and join us!
We are on our way to Edmonton today to set up for the Edmonton Boat and Sportsmen's Show. If you're in the area we'd love to see ya.
September 25, 2011
You would not believe the weather we have been getting this weekend. Imagine a hot July day with everyone in shorts. Yesterday the water was mirror calm all day, sun was shinning, not a cloud in the sky, very much in contrast to the autumn leaves on the trees. We even had a few guys decide to do some swimming although I am not sure it was their intention. I was very impressed at the walleye that came in yesterday. Lots of really nice fat fish!
September 23, 2011
Mist and Loons
Woke up at 6 this morning, stumbled out to the coffee pot and poured a travel mug. Coffee in hand, destination: the end of Dock #2. Tried to step lightly so as not to disturb the glorious silence. Standing at the end of the dock with the camp behind my back, it was easy to imagine I was alone with the loons. Every so often a fish jumped. Mist slowly rose off the far end of the bay. The sky turned purple and pink as the sun started to rise, and the moon was still visible. Sky brightened to blue as we started the motors and the first of the private boats left dock.
September Musings
A special thanks goes out to Andrew who brought along his bagpipes for his week long stay in camp. Imagine the calmest late night, moon and stars lighting the bay. There we stood on the big deck atop the boathouse enjoying our very own bagpipe concert. A fitting salute to the beautiful Jan Lake.
And a note about our most friendly of guests; Fred the pelican; may he rest in peace… we've learned that pelicans have a very picky palate indeed. They do not go for bread crumbs or even chocolate zucchini muffins. Like the rest of us, it must be fish… and freshly caught!
Fishing as of late has been steady to say the least. First part of this week was incredibly windy, with gusts up to 20km/hr out of the South. Walleye were taking it easy during that time, but as the winds have settled down, some nice Walleye coming in. Those fantastic Northerns… fantastic because they can be caught anytime, anywhere! The Narrows is still a popular spot to set adrift lately. Not having had a good frost yet up here, the black flies have been incredibly bad. Not so much out on the water we've been told, but back in the yard and in the bush where we are working, they are a bother.
Despite the flies, the weather is beautiful. While the sun is shining, we've got no complaints! Thank you so much to all of you who made it up to the lake again. We are thrilled each time we get a response to our news postings or facebook messages, and we plan on keeping in touch over the fall and winter.
August 5, 2011
Life is good – if you're a duck.
August at Three Lakes has us all suffering from a serious case of déjà-vu. Once again the lake is striving to reach new heights. Water levels aren't quite as high as 2005… yet. But unfortunately, our boathouse and certain dock areas are "rubber-boot-zones". The guys have been working hard, and have succeeded in raising the boardwalk along the waterfront, as well as several of the jetties. Our resident family of ducks is having a hey-day in all this!
Fishing has been centered in the second narrows. With all the water coming out of Deschambault the current has been very strong and fish seem to be very active. A little slower on the rest of the lake but a few boats did very well by following bait fish to windward facing shorelines.
We have had a string of sunny days ranging in the 20-25 degree mark lately, as well as night rains. Wonderful berry and mushroom picking weather. Bugs for the most part have settled down also. Perfect time to drop a line in the water, or kick back with a book.
We at Three Lakes Camp "fish" you were here!
July 15, 2011
The first part of July has literally "blown" by! Lots of windy days, and finally some rain as well. Water levels are very much on the rise with waves lapping just under the boathouse again. The fish flies hatched a few weeks ago, carpeting the lake surface for a few days.
We have been so busy, July has felt more like June, but busy is definitely good! Had a wicked storm last night that gave the docks a good rock, power in half the community was down for most of the day. Weather has been incredibly hot and humid. We've got a rainfall warning on for tonight, and then things are supposed to cool down for the rest of the week
Water temperatures have risen as high as 20 degrees C (69 degrees Fahrenheit). The rig of choice has been mostly bottom bouncers with nightcrawlers. Some very nice catch and release specimens caught on camera, as well as lots of nice eater-size coming in on dock.
Once again, the Canada Day fireworks show was a hit. Many great displays both private and from the community. Thanks to Joe for an awesome display of his own off our docks.
We had a bear nosing around for about a week but he made one to many trips for his own good and had to be put down. This was one of the first appearances of bears since the fire in 2005. With so many bears out at the dump it is a fairly uncommon sight to see them in the community.
Check out the album July snapshots on the facebook page.
June 23, 2011
Hot coffee in hand. Sunshine. Birds chirping. Not a ripple on the water. A glorious morning at the lake. Camp is slowly waking up. The first boats have motored out into the bay, throttled up and they're off, destination...anglers paradise! Jan is known for its fishing, but even better as a place to get away from it all. Drop a line in the water, sit back and relax.
June 20, 2011
We are glad to say that we are not getting near the rain that the south of the province is getting. Actually it seemed almost too dry up until a few days ago. We have had quite a few days of overcast and a persistent east wind which is rather unusual for Jan. (the predominant wind usually comes from the north). However this has resulted in some pretty good walleye fishing though not where you might expect. Surprisingly Harpers Island is still producing, probably better than the early spring. Even more surprising is the fact that the weeds are already coming out in the bays and the shallows and that is where they seem to be getting the larger walleye.
Record catches this week were a pair of big Northerns. One 20lbs the other 18.7lbs. Check out the facebook page for photos.
Since we bought new motors this year we have a surplus of 2008 and we will be selling those off as well as some of the older lunds. We have added a new page to the site for this purpose. Just click on the For Sale button on the side menu.
As you might expect June is as busy as ever. We can't believe how this community overflows with fishermen and families during this month. We lose track of the days and simply try to get some sleep when it gets dark. So far this has been an outstanding season and we can't believe so many of you have come and gone already. We look forward to seeing all those yet to come.
June 6, 2011
Well it has been an interesting couple of days. Very busy with lots of people here right now. Weather has been all over the place but the fishing has been strong. Notable catches included a 7lb walleye caught down in Harpers and a 25lb Northern caught and released at an "undisclosed location".
Three Lakes Camp was pleased to once again host Wayne Phillips and his crew of poets. We were also very delighted to be part of a ceremony they had honouring one of their group with the most prestigious of awards "the Order of Jan Lake". This was presented to long-time Jan lake veteran Glen Sorestad. Other notable achievements of Mr. Sorestad include the Order of Canada which he received last year.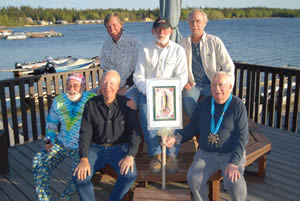 Weather-wise our hot and dry spell ended last week with a nice rain which effectively lifted the fire ban that had been in place since opening. This was followed by 3 days of very windy, very cold weather. At one point it actually snowed and only the very hearty ventured out only to return frost bitten and wind blown a short while later.
We expected the cold front to be a turn off for the walleye for a couple of days but we were pleasantly surprised when Cole and Braden went out for an evening fish the other night and easily limited out on 19 inch walleye.
Luckily most everybody got some good days of fishing in last week and for those of you coming up this week you are in for some much nicer weather.
May 29, 2011
Well the season is off to a busy start. May long weekend is behind us and we are getting ready for the craziness that is June. Sad to say if you are not booked in already, June is packed. Its great to be seeing everyone again and we are looking forard to seeing everyone yet to come. Fishing has been steady. As usual Harper's island was the hot spot for the Long weekend at times hosting upward of 20 boats at the south end. We saw a lot of walleye, mostly males, out of Harper's but some of the larger fish seem to be coming from the Narrows. Already we are seeing fish being caught in amongst the islands which seems early relative to the ice going out but apparently the fish didn't get the memo.
Weather has been beautiful, maybe too nice as we currently have an open fire ban in place. Should not last very long though as we are having evening showers fairly often. Hope to be seeing everyone really soon.
May 15, 2011
Well, fishing season is open and the ice is pretty much off the bay. It was far enough away to put the docks out anyways. We had put some boats in yesterday and the rest are going in today. The weather has been absolutely beautiful for the last couple of days and we expect the ice on the main lake is going to be pretty soft. (Though we can't quite get there to confirm) Cole and Braden went out in the bay early this morning to join the ranks of the hard core first of the season fishermen. The crowds start arriving on the May long week-end and so starts the madness of spring fishing on Jan. We will let you know when the main lake goes out.
May 12, 2011
Ice report: We have about 20ft of water around the shore line and a large crack out to Dog Island. You can see that Lou's point is open and there is a lot of open water around the two islands in the bay. The ice itself is quite rotten; very dark and moving with the waves. Overall we could still see the ice off for the first day of fishing (at least the bay) and we are well on track for open water on May long weekend.
Point of interest: Despite the remaining ice, Cam still felt the need to continue his tradition from last year of swimming every day. True to form he was in last night leaving the rest of us cringing on the dock. We will try to post some video on the facebook page.
May 3, 2011
The weather forecast is calling for above 10 degrees C daytime temps all week, rain showers today and tomorrow. Ice is still on the bay, slushy on top but still holding. It measured 27 inches thick April 27th. There is 2 feet of open water along the shoreline. The Mallards are back, as well as a bunch of healthy looking squirrels and wood chucks. A couple of nights ago, we caught a glimpse of the Northern Lights casting their green glow across the sky.
Brenda, Tracy, and Cole have returned for another year to help us out in the housekeeping and dock service departments. Bernie and Tania are lending a hand as always. Braden has also returned to Three Lakes after a 2 year hiatus. He previously worked for the Hawes'. Gary and Darlene will be taking up residence in camp again this spring. If you are interested in getting to know your way around Jan Lake or brushing up on angling techniques, contact us about booking a guide. We offer daily guiding rates and shore lunch packages.
We have had a few cancelations for the spring. The following are a few slots presently available in June if you are looking to book in last minute:
-June 6-8 (3 two-bedroom cabins up the hill)
-June 8-10 (2 two-bedroom waterfront cabins, side-by-side)
-June 12-15 (two-bedroom cabin up the hill)
-June 27-30 (2 two-bedroom waterfront cabins, side-by side)
Only 11 days left till fishing season opens!
April 12, 2011
Well here is an ice report for you. We cut a hole for a temporary pump yesterday only to discover about 3 and a half feet of ice. Add to it the two inches of snow we got today. It is kind of chilly today but the forecast has it warming up steadily all week. Check out the face book page for a few photos.
April 4, 2011
We have a few new updates to the Links page and check out our new facebook page.
March 21, 2011
Well we made it through the Edmonton show. Four days on your feet with a smile on your face can be exhausting but it was a really good time all the same. I must admit that I was impressed with the size of the venue. The boat dealers really pulled out all the stops and showed up with a lot of hardware. I thought there was a really good mix of hunting and fishing as well. As usual the show gave us a good opportunity to catch up with friends and guests from the Edmonton area. We are always glad to see you guys come out.
Big thanks to Doug and Mariette for all their help over the weekend.
We are planning a trip up to the lake in the next couple of weeks to start getting ready. Stay tuned as we will be giving reports on ice conditions and the like.
March 7, 2011
I am sure Ryan and I aren't the only ones getting antsy to return to Jan Lake. Judging from the fantastic response at the Saskatoon Sport & Leisure show last weekend, fishermen from all over the province are getting geared up for the season. Thanks to everyone who stopped by the booth to ask questions or to say "hi"!

Attention Albertans! Come and see us a the Edmonton Boat & Sportsmen's show March 17th to 20th. Whether you are a first-timer or have been vacationing at Jan for years, there's nothing we'd like better than to connect with you and hear your stories.
In other news, we have just received word from the Ministry of Environment Fish and Wildlife Branch regarding changes to opening dates and angling limits. The central zone of the province (Jan Lake) will now have a fixed opening date of May 15th, and the provincial angling limits have been adjusted slightly from what was proposed to 5 pike, 4 walleye and 3 lake trout.
Also we hope everyone is enjoying the new website. It is still a work in progress so if you find any mistakes or errors let us know.
Only 66 days left to fishing season.

January, 2011
Hope everyone enjoyed the holidays. Christmas being the time for friends and family gathering, it is also a popular time for arranging the yearly fishing trip! Don't hesitate to contact us if you have any questions regarding the camp or bookings. We are confirmed to attend both the Saskatoon Sports and Leisure Show, March 3rd to 6th, as well as the Edmonton Boat and Sportsmen's Show March 17th to 20th.
Sure do miss daily happy hour on the big deck…
Happy New Year!
October, 2010
One of the most enjoyable seasons yet… absolutely beautiful weather, awesome fishing, and fantastic company! Record catches included a 28 pound Northern Pike, and a 6 pound Walleye. Super early ice-off in the Spring made for some adventurous angling on Jan, as most of the "regular" hotspots were cold by May. Spawning was over and done with well before opening day, and the fish had moved on. Fishermen were scouting out new holes, with no difficulties in returning home with their limits.
This year our shorelunch kits were a popular item, as many prefer to eat their catch fresh. To pull up on a sun-drenched rock ledge, on your own private island, the only sounds being water lapping, and the odd gull or eagle cry. Build a fire on the rock or use the cookstove we provide to fry up those fillets… is your mouth watering yet?
The camp remained busy through September. We offered 15% off accommodation starting September 6th, and will repeat this deal for the Fall of 2011. Special thanks to our returning guests, and a warm welcome to any newcomers to Three Lakes Camp. We hope to see you all again!
May 5, 2010
THE ICE IS OFF!
We are happy to report, and I am sure many of you will be happy to hear that the ice left Jan Lake April 18th. The main lake is wide open. Jasmine and I have been up since the 23d, and our staff arrived on May 1st. We have been busy finishing projects we started in the fall and getting all the spring chores squared away.
The weather has been beautiful for the last couple of weeks, especially for this time of year. So far we have avoided the last minute snowfalls that Regina and Saskatoon have been experiencing though we have yet to put away the snow shovel just in case.
Fishermen will be interested to know that the water is down, quite significantly, from last year. It is a nice break from what has been a long run of high water years, and we expect fishing to be livelier as a result.
Winter couldn't pass quickly enough, and as we approach the fishing season we are getting more and more excited to see old friends and new. There are still a few cabins available for opening weekend, as well as limited weekday slots in May and June. We are offering 15% off fall fishing in September, call us for details.
It's time to go fishing.
December 12, 2009
Greetings from Ryan and Jasmine,
We are so delighted to be taking over the role of caretakers of such a unique Northern escape with such a rich history. Three Lakes Camp on Jan Lake has played a part in many generations of families who have travelled the miles year after year not only to enjoy the excellent fishing, but also to revel in the beauty of the North. For those that know our story, our history with the camp, and with George and Donna, you can imagine what an awesome homecoming it has been for us, to recognize familiar faces and to renew ties with old friends.
At the same time we recognise the daunting task of filling George and Donna's shoes. We were very grateful for all their help and support for the spring start up and for their continued advice and counsel.
We couldn't have asked for a better season in our first year. We appreciate the continued support of so many long-time guests and welcome newcomers to Three Lakes Camp. Another late spring and slow ice year didn't dampen the enthusiasm of the early bird fishermen. Groups like Dave and family still managed to navigate through the ice flows into the islands to bring back their limit in Walleye. Overall we saw a steady year for fishing; several trophy catches graced our docks. Bill and Pat never seem to leave without their share of giant Northerns, while Frank's 8 pound walleye was the talk of the camp!
Next year fishing season opens on the 22nd of May, providing for a little more assurance that ice will not be such an issue in the early spring. Garry and Darlene are excited about returning next year to fill their roles as guide and fish filleter supreme… Three Lakes Camp wouldn't be complete without their presence. In the spirit of ever improving and preserving the camp we commenced several large projects which included the rebuilding of the retaining wall behind the boat house and removal of the stumps beside the lodge in prep for some longer-term campsites. We are also in the process of reorganizing the store for 2010 and are excited about the new layout. The new year will find us in attendance at both the Denver and the Billings sports shows, January 8th to 10th and January 15th to 17th respectively.
In a season that presented us with many challenges from late ice to lightning strikes we were able to weather the storm and are looking so forward to our second season; we hope to see you all there.