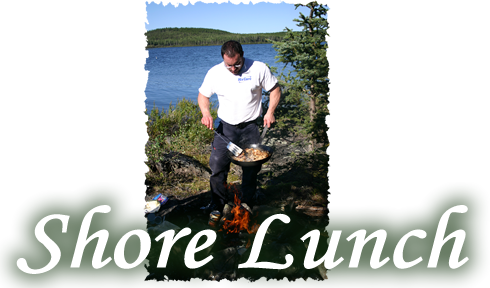 If you like to dine on freshly caught fish, then you simply must experience a shore lunch. At Three Lakes Camp, we can provide everything you need for your very own island buffet, save the fish of course… but we'll let you, the fisherman take care of that.
The hardest part may very well be the choosing of which scenic spot to enjoy your lunch. Jan Lake is full of perfect picnic areas. Pull up on a sun-drenched rock ledge, on your own private island. The only sounds are of water lapping and an eagle cry in the distance. Build a fire on the rock or use the cook stove included in the shore lunch kit to fry up those fillets… is your mouth watering yet?
If you prefer your own special blend of ingredients, and all you need is a giant shore lunch pan to throw over the coals, come see us at the office and we will lend you one. If you are looking for a more all-inclusive meal, ask about our shore lunch kit which contains everything from pork and beans to paper plates. Bon appétit!
| | | | | | | |
| --- | --- | --- | --- | --- | --- | --- |
| | | | | | | |